PRECIOUS MEMORIES
Preserved forever in a quilt or wall hanging
Your favourite photographs are transferred to fabric and quilted into a one-of-a-kind piece of textile art. Your wall hanging can be embellished with pet tags, collars or even favourite toys.
Every piece is unique, created especially for you by textile artist Barbara Elias.
Price depends on the number of pictures used and the finished size, and start at $200.00
To view more pieces by Barbara, please visit the Gallery at www.barbaraelias.com. Call Barbara at (506) 988-0445 or e-mail barbara@barbaraelias.com.
---
Samples of Photo Transfer Quilts
"Memories of My Homeland" was made for Roxanne, who moved from Romania to Paris.
Although we only had eight pictures, using interesting fabrics and different machine stitching patterns, we were able to create this wonderful memory wallhanging.
Sixteen pictures from her life so far enhance this king-size quilt for Cassandra's 16th birthday.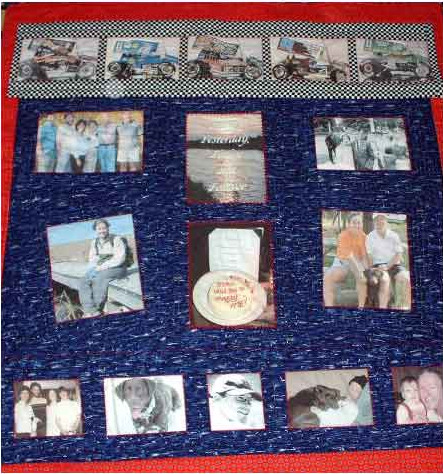 Pictures of his beloved NASCAR automobiles, the lake they first met at, the proposal on the wedding cake, his dog and family... all these pictures were e-mailed to me for inclusion in this special quilt.
I never met this lady, who lived in the Far North, but it was a wonderful thoughtful gift to her husband for their wedding. It hung at the wedding reception where it garnered many admiring comments.