"Barbara it is absolutely amazing. You have an incredible talent. It actually brought tears to my eyes. I can't wait to give it to him."
Sandra R.
"The quilt is amazing. Your choice of tartan was perfect"
Erin O.
"I am so grateful for your talent ..... it is going to make a very special anniversary present"
Joan, Washington D.C.
"I will certainly pass on your name to many friends that may wish to have a t-shirt quilt done!!!"
Dave, Moncton New Brunswick
"The three quilts from our Harley t-shirts are wonderful. They will go into our new home, one for each of my sons and one for my husband. I can't believe you were able to make them so quickly."
Jackie S, Los Angeles, California
Hi Barbara, I hope you had a wonderful Christmas! We certainly did thanks to you! It was very special for my daughters to open the gift of your beautiful quilts. They were all blown away how amazing they were! So thank you again, I will be sure to recommend you to anyone looking for a beautiful quilt! Happy New Year!
Joyce P.

I just wanted to thank you so much for the hard work on the quilt you made for my mom for my birthday gift and going above & beyond and making the extra one to make sure to include all the other shirts and the heart necklace. I Love it all so much. Thank you.
Lorraine
I wanted to let you know now that a year has passed since I received the quilt that I use it nightly. I appreciate the work and care you put into making my quilt. The quilt was the best thing I ever did for myself. I was a gift that I bought for myself and I know I will use it for years to come.
Debbie
Hi Barbara, the quilts arrived a few days ago and they are awesome! They are special momentos of mine and my dad's races. They mean a lot as my father passed away in June. I am taking both quilts to show my mom so she can select one of them. Thank you for the effort that went into making them.
Christine
Hi Barb, She loved the quilt! Thank you for the amazing work you did! She now can take some of her memories with her to University. Much love, Us xx
Chloe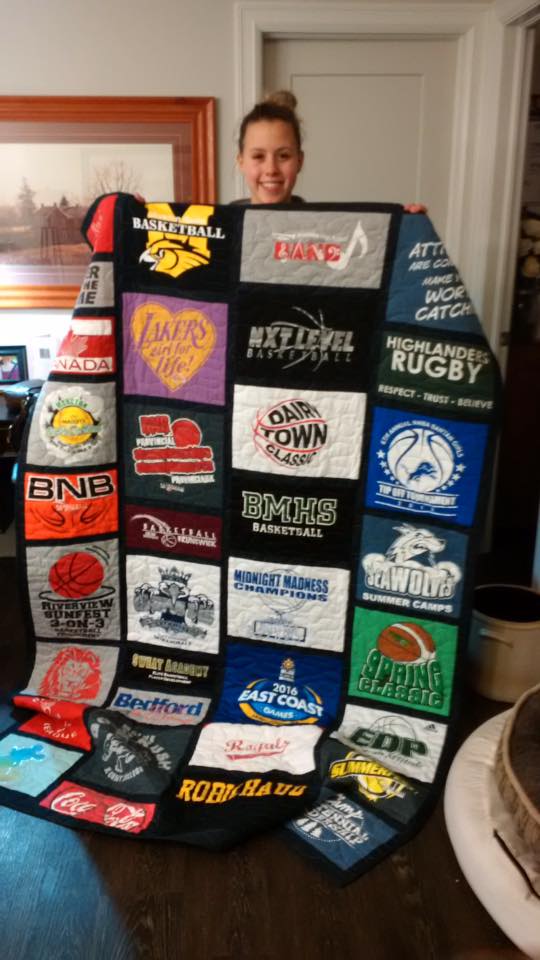 Thanks so much for making a family heirloom for my daughter. Your creative flare is awesome.
Teresa
To send Barbara an email This email address is being protected from spambots. You need JavaScript enabled to view it.